Donald Trump's shocking presidential victory has rightly dominated the headlines, but Americans across the country voted in key elections for state legislatures, and it's important we heed these developments, too. After the 2014 wave, Republicans dominated state legislatures at a level not seen since the Civil War, leaving Democrats optimistic about rebounding. However, while Trump's resilience helped mute Democratic gains, Democrats still managed to net one legislative chamber this year.
Among the 86 chambers that held elections in 2016, Democrats gained control of four while Republicans secured power in three, leaving Republicans in charge of 68 chambers and Democrats just 31. Republicans gained total control over the legislature in Minnesota, Iowa, and Kentucky, while Democrats did the same in Nevada and New Mexico. Democrats also broke the Republican grip on the legislature in Alaska to produce a divided government between the two chambers there. The map at the top of this post details exactly which chambers changed hands.
Prior to the election, we identified 18 chambers that could flip. By and large these were the most competitive chambers, although a few others that previously flew under the radar still had notable results. A handful of other states saw parties fighting over legislative supermajorities necessary to override gubernatorial vetoes or to pass certain legislation. Below we'll look at what went down in each of these chambers individually.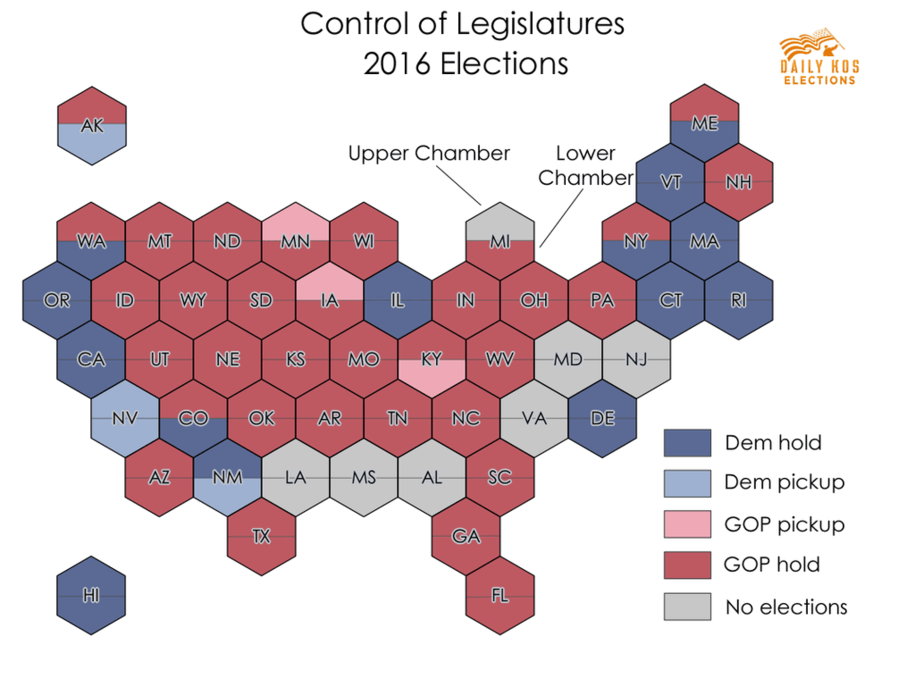 A few notes before we begin:
Some races are still uncalled or are heading toward recounts.
Our figures on the number of seats each party held prior to the election assign a handful of vacant seats to the party that last held them.
All seats in each chamber were up for election in 2016 unless otherwise specified.
In some chambers with an even number of seats and no external figure who can break ties (such as a lieutenant governor), it's also possible for a deadlock to emerge when the parties split the seats equally. In such cases, some sort of power-sharing agreement usually results.
ALASKA STATE HOUSE
Prior to 2016, Republicans held 23 seats and governed in a coalition with four members of the Democratic caucus, while mainstream Democrats had 12 seats plus the support of one independent. These four renegade Democrats all represented heavily Native American districts and mainly caucused with Republicans solely for the chance to be part of the majority, not over any particular ideological grievance. Including those four members, Democrats won 14 seats and lead in three more races that are as yet uncalled. Republicans won 18 seats and also lead in three races, which would give them a 21-seat majority, while one independent won and another leads.
This chamber wasn't on our radar because we were looking only at ones that Democrats might win outright, and indeed, Republicans appear to have retained a numerical majority. However, not only did those four turncoat Democrats return to the fold, three Republicans also joined them, giving the Democratic-led coalition a majority of 22 seats to 18 for the regular the Republican caucus. (The two independents also say they'll join the coalition.) This marks the first time Democrats will run Alaska's lower chamber since 1994.
ARIZONA STATE SENATE
Republicans previously held an 18-12 majority, and Democrats hoped Trump's weakness could help them gain a majority or at least produce a deadlock, since the state has no lieutenant governor to break ties. However, Democrats won 12 seats and lead in just one more, while Republicans won 15 and narrowly lead in two others. That means Democrats fell just shy of producing a deadlock, and Republicans will remain in power with a 17-13 majority.
ARKANSAS STATE SENATE & HOUSE
Republicans dominate all levels of state government in Arkansas, but the state constitution requires a three-quarters supermajority for most budgetary matters. Republicans controlled the state Senate by 24-11 and gained two seats for a 26-9 majority, leaving them one seat shy of that all-important supermajority threshold. Only half the seats are up each year and Republicans have one very vulernable Democratic-held target left in 2018.
Meanwhile, the GOP previously governed the state House with 64 seats while Democrats held just 35 and a conservative independent had one. Team Red bolstered their ranks for a 73-27 majority, leaving them just two seats shy of the three-fourths threshold.
CALIFORNIA STATE SENATE & ASSEMBLY
Like Arkansas, California is a strongly one-party state, but it requires a two-thirds supermajority to raise most taxes. Democrats had surpassed this threshold after 2012, but lost their coveted supermajority in 2014. Now, they might just get it back. In the state Senate, Democrats previously held a 26-14 majority and won 26 seats in 2016, while Republicans won four and just barely lead in one more. California's late mail votes often boost Democrats and if they are able to prevail in that uncalled race, they would clinch the supermajority. Only half the Senate is up every two years.
Democrats had a 52-28 state Assembly majority heading into 2016. They won 52 seats and lead in three others, while Republicans won 23 seats and lead in two others. That likely gives Democrats a least a 55-25 edge, or one more seat than they need for a supermajority.
COLORADO STATE SENATE
Republicans previously controlled the state Senate with just a bare 18-17 majority, and Democrats were optimistic they could flip the lone Republican-held seat that voted for Obama in 2012. Democrats currently lead in that one district and won 16 others, but they unexpectedly lost one of their own seats, ensuring that Republicans will maintain their narrow grip on power. Only half of the seats were up in 2016.
CONNECTICUT STATE SENATE & HOUSE
Democrats held the state Senate 21-15 prior to 2016, and the body wasn't even on our pre-election list of chambers to watch. But Democratic Gov. Dan Malloy's deep unpopularity gave Republicans the chance for major gains, and gain they did. Both parties won 18 seats each, leaving Democratic Lieutenant Gov. Nancy Wyman to break ties, making this the best showing for Republicans since 1994, when they last won a majority. Democrats held an 87-64 majority before 2016 in the state House, but Republicans narrowed that down to just a slim 78-73 Democratic edge, their lowest since Republicans last won power in 1984.
ILLINOIS STATE SENATE & HOUSE
Democrats had, at least on paper, the three-fifths majorities needed to override Republican Gov. Bruce Rauner's vetoes heading into 2016, but it slipped from their grasp. Although their 39-20 state Senate majority narrowed to 37-22, that's still one seat above the minimum. But while Democrats had the bare minimum of a 71-47 state House supermajority prior to 2016, they lost four seats, bringing them below the veto-proof threshold with a majority of 67-51. However, one defeated Democrat often sided with Republicans, meaning the pre-2016 supermajority was effectively in name only.
KANSAS STATE SENATE & HOUSE
Republicans have have held the Kansas state Senate since 1916, longer than their streak in any other chamber in the country, and that didn't end in 2016. But while their enormous majority of 32-8 only shrunk by one seat to 31-9, scores of conservatives had lost primaries to moderate Republicans after arch-conservative Republican Gov. Sam Brownback's popularity collapsed. Meanwhile, Republicans held a 97-28 state House majority prior to the election, but Democrats narrowed that down to an 85-40 Republican edge.
IOWA STATE SENATE & HOUSE
Democrats narrowly governed the state Senate with 26 seats while Republicans held 23 and a Republican-turned-Libertarian had one. But Iowa was a disaster for Democrats up and down the ballot, and the party ended Tuesday night with just 19 confirmed Senate seats, while they narrowly lead in one more. Assuming the Libertarian sides with them, Republicans would have a 30-20 majority, giving them control of the chamber and with it the whole state government for the first time since 1998. Adding insult to injury, Democratic Majority Leader Mike Gronstal, who is also the longtime chair of the DLCC, even lost his seat. Republicans held the state House 57-43 and while Democrats hoped to put it in play, Republicans expanded their ranks by two seats for a 59-41 edge.
KENTUCKY STATE HOUSE
Heading into 2016, Democrats had a 53-47 state House majority and had governed the chamber continuously since 1923, while Republicans had only won it twice ever. That came to a resounding end when Republicans gained a whopping 17 seats for a hefty 64-36 majority, even defeating sitting Democratic House Speaker Greg Stumbo. Republicans now control both legislative chambers and the governor's office at once for the first time in state history, and now the GOP also controls both legislative chambers in every Southern state at once for the first time in American history.
MAINE STATE SENATE & HOUSE
Republicans were defending a 20-15 state Senate majority, which Democrats came close to toppling. Team Blue gained two seats, but Republican Senate President Michael Thibodeau narrowly survived, and with him, Republicans eked out an 18-17 majority. Meanwhile, Democrats previously governed the state House with 78 seats while Republicans held 69 and independents had four. Democrats narrowly held onto their majority, winning 76 seats while leading in one more, while Republicans inched up to 72, and independents were reduced to just two.
MICHIGAN STATE HOUSE
Republicans maintained a 63-47 majority prior to the elections, but Democrats hoped to undo it thanks to Republican Gov. Rick Snyder's deep unpopularity. Unfortunately for Democrats, that 63-47 deficit persisted even though the statewide legislative popular vote was essentially tied.
MINNESOTA STATE SENATE & HOUSE
Democrats were defending a 39-28 state Senate majority, but Republicans successfully won 32 seats and narrowly lead in two others, while Democrats won 32 seats and are ahead in one more. If that holds, that would just barely give Republicans a new 34-33 majority, their first since 2012. Meanwhile, after losing power in 2014, Democrats hoped to regain the state House, which Republicans controlled 73-61. However, Republicans won 75 seats and lead in one more, while Democrats were reduced to just 57. That gives Republicans a 76-57 majority, while one additional previously-Republican seatwill be vacant until a January special election.
NEVADA STATE SENATE & ASSEMBLY
Nevada was a rare bright spot for Democrats in 2016. Republicans just narrowly controlled the state Senate 11-10, but Team Blue gained one seat for an 11-10 edge of their own. Only half the seats in the chamber are up every two-year cycle. Republicans were defending a majority of 24 seats in the state Assembly, while Democrats previously held 17 and a Republican-turned-Libertarian had one. Democrats won 26 seats outright and lead in one more, giving them a likely 27-15 majority over Republicans, and with it, unified control over the legislature just two years after Democrats had unexpectedly lost it or the first time since before the Great Depression.
NEW HAMPSHIRE STATE SENATE & HOUSE
Republicans previously governed the state Senate with a 14-10 majority, and Democrats had hoped a combination of open seats plus a strong top-of-the-ticket showing could turn that around. But they made up no ground, winning just 10 seats while Republicans won 13 and lead in one more. New Hampshire's state House is the country's largest with 400 members, and Republicans controlled it with a 237 seat majority, while Democrats had 161 seats, a Republican-turned-Libertarian held one, and an independent had another. Democrats gained ground, but still came upon short with 175 seats, while Republicans won 225, although a number of races are still uncalled.
NEW MEXICO STATE HOUSE
Republicans won their first majority since the 1952 elections in 2014 and were defending 37 seats to Democrats' 33. However, Team Blue won 37 seats and leads in one more, while Republicans won just 31 and lead in another. That likely gives Democrats a 38-32 majority and unified control over the legislature once more.
NEW YORK STATE SENATE
Despite holding just 31 of 63 seats prior to the elections, Republicans actually ran the state Senate thanks to one conservative Democrat (Simcha Felder) who outright caucuses with them and another six who formed the Independent Democratic Conference, giving the Republican bloc the support of 38 members to just 25 for regular Democrats. Mainstream Democrats won just 23 seats and lead in one more, while Republicans won 30 and lead in another. But the IDC also gained one member after the primaries and will now have seven total. Republicans will likely have a majority of at least 32-31 thanks to Felder, and if the IDC continues to support them, mainstream Democrats will be looking at a deep 39-24 deficit.
NORTH CAROLINA STATE SENATE & HOUSE
Prior to 2016, Republicans held a 34-16 veto-proof majority in the state Senate and a 75-45 state House supermajority, including the support of one Democrat-turned-independent who caucuses with them. Democrats were hoping to break these three-fifths supermajorities to uphold vetoes from likely Democratic Gov.-elect Roy Cooper. However, Republicans won 34 Senate seats and lead in one more, while Democrats won just 15, giving Republicans an even larger 35-15 supermajority. In the state House, Democrats won 45 seats and lead in another, while Republicans won 72 and lead in two more, likely giving Republicans a 74-46 supermajority, or two seats more than the minimum needed to override vetoes.
VERMONT STATE SENATE & HOUSE
Democrats previously governed the state Senate with 18 seats and the support of three Vermont Progressive Party members, while Republicans had just nine. This year, Democrats won seats 21, Progressives two, and Republicans seven, giving the Democratic coalition comfortable 23-7 supermajority. Democrats also controlled the state House with 85 seats in coalition with six Progressives and six independents, while Republicans held 53. Democrats won 84 seats, Progressives seven, and independents six, but Republicans captured 52, meaning the Democratic coalition's 98-52 majority is two seats shy of the two-thirds threshold needed to override the vetoes of newly elected Republican Gov. Phil Scott.
WASHINGTON STATE SENATE & HOUSE
Republicans previously held the state Senate with 25 seats plus the support of one renegade Democrat, Tim Sheldon, while the regular Democratic caucus had 23 seats. Mainstream Democrats won 22 seats and lead in two others, while Republicans won 23 seats and lead in another. (Only half the chamber is up every two years.) That likely gives Democrats a nominal majority, but just like in New York, that turncoat Sheldon is set to keep Republicans in power with a 25-24 majority. Meanwhile, Democrats held just a bare 50-48 majority in the state House, but won 48 seats and lead in three others, while Republicans won 42 seats and lead in five, which would give Democrats at least a 51-47 edge.
Note however, that Washington's mail ballots can take a few weeks to fully count and often give Democrats a slight boost in the late tally, which could net them a couple more seats.
WEST VIRGINIA STATE SENATE & HOUSE
Republicans captured West Virginia's legislature in 2014 for the first time since 1928. National Democrats expressed hope of flipping the state Senate, since Republicans held just an 18-16 majority. However, we were long skeptical of their chances because the party was defending 11 of the 17 seats that were up this year, and Democrats had done well with that half of the chamber in 2012. Our skepticism was warranted, as Republicans won a crushing 22-12 majority. Republicans' majority in the state House narrowed by a single seat from 64-36 to a still-very-comfortable 63-37 spread. The GOP's dominance is important because, although Democrats retained the governor's office, the veto-override threshold is just a simple majority.
Source of article here.