Another Trump supporter feeling perfectly comfortable being a nasty racist, and using the election of Donald Trump as an excuse for it:
Dyne Suh, a 25-year-old law student from Riverside, California, just wanted to enjoy a relaxing Presidents' Day weekend with her  fiancé and a couple of friends in nearby Big Bear Lake. What she was not expecting was for her Airbnb host to abruptly cancel on her because of her race.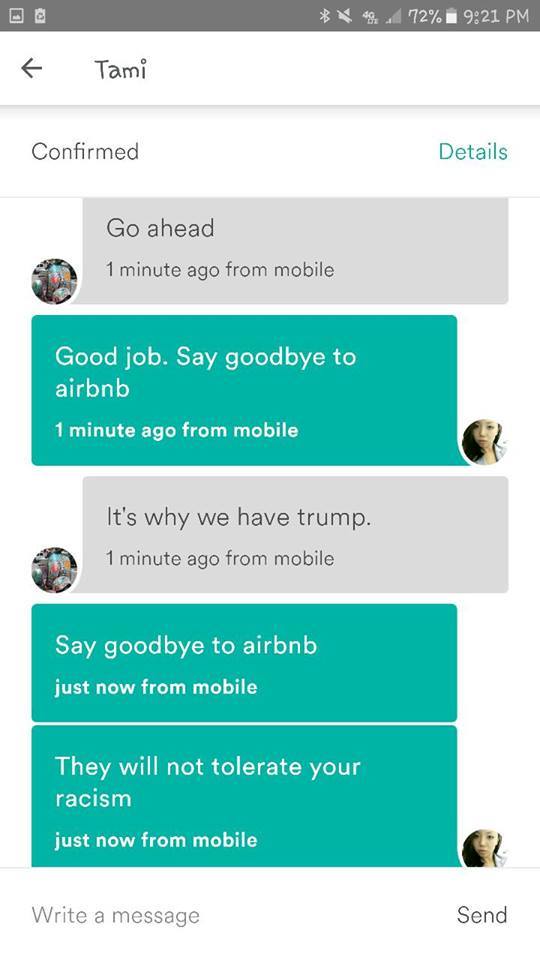 Big Bear Lake is a popular ski resort in the San Bernardino mountain chain in Southern California. About a month prior to her trip Ms. Suh booked through AirBnB what was billed as a "Tree House Loft" in Running Springs, a town only a short distance away.  As February 17th approached she messaged the female host, identified as "Tami," asking whether she could add two friends and two puppies to the reservation. No problem, she was told.
The lake is not simple to reach. One has to travel up an often treacherous two-lane roadway that snakes upward alongside Big Bear mountain. It takes a good 45 minutes to reach Running Springs from the bottom of the mountain, and it's not an easy ride, particularly if it is snowing heavily.
On Feb. 17, the group of four set out up the mountain. An intense winter storm was then hitting the area, making road conditions hazardous and prompting flash-flood warnings. 
As she approached Running Springs, Ms. Suh sent a text message to her "host," advising that she was nearly there, and asking how she should pay for the added guests. What happened next was fairly stunning. The "host" immediately reneged on the reservation, saying in essence that there was no way she would rent the "loft" out for the price she'd already agreed to, and suggesting that Ms. Suh was "insanely high" if she believed otherwise:
"I wouldn't rent to u if you were the last person on earth," the host wrote back to Suh. "One word says it all. Asian"

***

When Suh replied that she would report the host to Airbnb for being racist, the host told her to "Go ahead" and "It's why we have trump."

"And I will not allow this country to be told what to do by foreigners," the host added.
Ms Suh, an American citizen who has lived in the U.S. since she was 3 years old, preserved the exchange, part of which is displayed above.
But she still had to get back down the mountain in the snowstorm.
To compound the problem, the continued snow was making it increasingly dangerous to get down the mountain, according to Suh. "By the grace of God," Suh said in a Facebook comment, there was a crew from KTLA 5 News that happened to be parked near them on the mountain while covering the winter storm. One of the station's reporters, Steve Kuzj, interviewed Suh using his smartphone.
A compelling video of Ms. Suh telling her story that night to the KTLA reporters has been widely viewed, reported by several Southern California TV stations, and was uploaded to YouTube:
"I'm an American citizen. This is my home," Suh said during her interview with KTLA 5. "It stings. It stings that after living in the U.S. for over 23 years, this is what happens."
AirBnB has "permanently banned" the host from renting through the AirBnB platform.