Remember the mainstream media hyperventilation about fake news. Is this story on Venezuelan confiscation of toys not dangerously fake?
By Ben Norton
Turning facts on their head, CNN transformed the Venezuelan government's act of helping the poor into the complete opposite.
In the article "Venezuelan President Called a 'Grinch' After Government Toy Seizure" (12/11/16), CNNreporters Rafael Romo and Jorge Luis Pérez liken President Nicolás Maduro to a dastardly Grinch who is stealing toys from under children's Christmas trees — while he is doing precisely the contrary.
On Sunday, December 11, the Venezuelan government confiscated nearly 4 million toys from the country's largest toy company. Venezuela's consumer protection agency said the company was hoarding the toys and planning to sell them at inflated prices in order to maximize profits during the Christmas season. The head of the consumer protection agency charged that executives at the toy company, Kreisel-Venezuela, "don't care about our children's right to have a merry Christmas."
The government announced it would give those toys to local committees in impoverished neighborhoods to sell at below-market prices, so poor families can afford gifts for their children. But given the propensity of US corporate media to distort Venezuelan government policies, it's unsurprising that CNNdiscounted this explanation.
On CNN's website, reporters Romo and Pérez cite anonymous "critics" who claimed "many families won't be able to buy the confiscated toys for the holiday." On the cable channel, the "critics" claimed that "many families won't have any toys to buy their children."
Who are these "critics"? CNN cites just two people, both obscure Twitterusers, neither of whom claimed that families now won't be able to buy toys.
In fact, not until more than halfway through the CNN video broadcast does the report acknowledge the reason the Venezuelan government gives for confiscating these toys. In the final seconds, CNN deigns to include a clip from Maduro, who explains that his actions are precisely the opposite of what the media conglomerate implied: "We have found a case of criminal hoarding of 4 million toys, so the children of our communities, barrios and government committees will for sure have their toys for Christmas, thanks to our laws," the Venezuelan president declared. "This is like reinforcements for baby Jesus."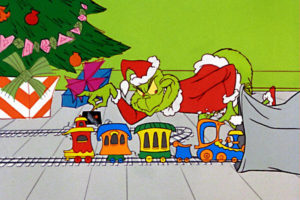 Similarly, not until the sixth paragraph does the online article mention the Venezuelan government's rationale for confiscating the toys, after Maduro is smeared as the "the Grinch that stole Christmas." (One cannot help but notice that, if anyone were to be compared to the Grinch in this situation, it would be rich corporate executives hoarding toys to maximize profit.)
The deception does not end there. In the article, under a large subhead titled "Worse than the Grinch," Romo and Pérez write, "'Now what?' a Venezuelan woman asked on Twitter, 'is [President] Nicolás Maduro the modern Grinch?'"
The tweet the CNN reporters link to is from an unknown Twitter user with 165 followers, who goes by the name Joli. If readers were to click on the link, they would soon see a thread in which Joli expressed surprise that her tweet inspired a CNN article, adding, "Aunque, no soy venezolana" — "Although, I am not Venezuelan."
#miradorvenezuela Y ahora que? Nicolás Maduro es el grinch moderno?

— Joli (@OlivasJudith) December 10, 2016
@OlivasJudith CNN se inspiró en mi tweet para su artículo! :,)… Aunque, no soy venezolana. pic.twitter.com/SmIrlLXq5S

— Joli (@OlivasJudith) December 11, 2016
Clearly, CNN's Romo and Pérez did not try to confirm the identity of the person whose quote they framed their entire article around. Yet the journalists continued with their shoddy reporting, writing, "Another Twitter user told CNN that the Venezuelan government is 'worse than the Grinch.'"
By "told CNN," Romo and Pérez do not mean they interviewed this person; they mean another unknown Twitter user with 500 followers who goes by the name Mivida tweeted at Romo.
The tweet they linked to, which had no favorites or retweets, also smears Venezuela's government as a "narco regime" (although that part of the tweet is not cited in the article). A quick glance at Mivida's Twitter feed shows that it is full of right-wing memes.
CNN's "Grinch" report exemplifies a popular new technique: Twitter has become the lazy journalist's favorite tool. With millions of users expressing millions of different opinions, ostensibly "neutral" news outlets can cite tweets that confirm their biases as putative "evidence" that the public feels a particular way on an issue–a way that almost always just so happens to reflect and serve powerful interests.
Random tweets from unknown users can hence be quoted as examples of anonymous "critics" who echo corporate and government propaganda and rehash conventional wisdom. CNN's reporting is a case study in how to further sling mud at an elected socialist government that has for years faced aggression from the United States.
The US government, the interests of which major corporate media networks like CNN so obediently echo, has supported right-wing opposition groups in Venezuela for well over a decade. In fact, in 2002, the US even backed a coupthat toppled the democratically elected government of Hugo Chávez, and temporarily replaced it with a right-wing, US-allied regime headed by businessman Pedro Carmona. The same media that continues to demonize Venezuela with outright lies today helped sell the coup then (Extra! Update, 6/02)—although Chávez was so popular, masses of Venezuelans filled the streets and demanded that their elected socialist leader be returned to office, promptly overturning the short-lived 2002 putsch.
The CNN video playlist included with the above article demonstrates this propagandistic tenor. The videos are all extremely negative, and blame "Venezuela's economic disaster" solely on its government.
If this kind of sloppy reporting were done on a US ally, it could ruin a journalist's career. But as American economist Mark Weisbrot (Guardian, 3/10/12) put it more than four years ago:
Such is the state of misrepresentation of Venezuela—it is probably the most lied-about country in the world—that a journalist can say almost anything about Chávez or his government and it is unlikely to be challenged, so long as it is negative.
More recently, an investigation in The Nation (6/22/16) by Gabriel Hetland found that while "Venezuela is in the midst of a severe crisis…mainstream media have consistently misrepresented and significantly exaggerated the severity of the crisis."
This suffocating climate lets major media networks get away with portraying progressive government policies that are infinitely more reminiscent of the deeds of Robin Hood, or even of the magnanimous Santa Claus himself, than they are of the greedy green Christmas monster.
---
Ben Norton is a journalist and writer based in New York City. You can find him on Twitter at @BenjaminNorton.
Messages to CNN can be sent to here (or via Twitter @CNN). Please remember that respectful communication is the most effective.